Cover art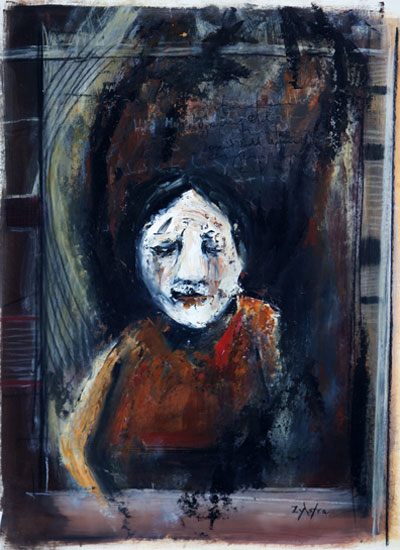 'Her World'
Febe Zylstra
The mixed media drawing 'Her World' the title of the cover art for this issue of Australasian Journal Of Psychotherapy was inspired and influenced by those who I have witnessed and cared for with Dementia and Alzheimer's and also for those, myself included, who have retreated and escaped into their own 'world' during their darkest times.

Having had a successful Nursing career for 20 plus years, I did not develop a real interest in art until after the birth of my daughter in the late 1990's after being diagnosed and treated for post-natal depression and anxiety. These tumultuous times were life changing and creating art became a significant part of my recovery and continued daily existence in allowing an outlet to express my emotions.

My passion for art grew and I began to devour art book after art book. Although largely self-taught, my continued quest for artistic knowledge and expression brought both frustration and further inner turmoil and eventually I completed a 'Diploma of Visual Arts'. It is fair to say my artistic style is forever evolving and the content of my artwork has found it's origins from dreams, memories past, my immediate surroundings and wider social issues, so my artwork tends to be part reflective, part confessional and part observation.

Generally I produce 'Series of Artworks' and my choice mediums, collage materials, texture, style and colour are intuitive and reactive as I let the work guide me. Commonly featured or anchored somewhere within my artwork is the figure, which becomes a springboard allowing a myriad of emotions to explode forth. Often accompanying the figure is a host of symbolic references, subtexts, often with humorous or dark sentiments hovering.
Febe Zylstra
www.zylstra.com.au to view more of my artwork.